Industry Overview
The Fitness Industry is thriving post-pandemic, as a growing population prioritizes their overall health and wellbeing. The pandemic itself brought about new trends in the industry as well, which included fitness operators placing greater emphasis on omnichannel offerings. Additionally, the increased prevalence of working from home has led to gyms becoming a social hub for individuals who would otherwise have limited social interactions during the day. According to Mordor Intelligence, the Global Health and Fitness Industry has a total market size of $87.07 billion in 2023 and is anticipated to grow 77% to approximately $154.21 billion by 2028. North America, the largest market, accounts for roughly $32 billion of the total market. Of the total U.S. population, 19%, or approximately 64 million Americans, are currently active members, and this percentage is expected to more than double over the next decade, primarily driven by a widely untapped GenZ generation (see LesMills GenZ data below) that is larger and more health-conscious than previous generations. 
Adding fuel to the fitness fire, the proliferation of fitness trackers has made individuals more aware of their health and personal biometric data. This has coupled with On-demand streaming exercise classes, which surged during the pandemic and continues to hold interest even as gyms have reopened and are mostly above pre-pandemic membership levels. This demand for omnichannel fitness solutions is expected to persist in coming years due to expectations primarily of younger generations growing up in a world of flexibility (e.g., Amazon, Uber Eats, Netflix). 
Of the eight fitness operators RetailStat monitors, the strength and speed of the recovery has been mixed, as Equinox, with its urban concentration, and 24 Hour Fitness, which already went through a restructuring in 2020, struggle to recover membership levels and carry leveraged capital structures. These issues have now become major concerns given the current economic climate and the level of interest rates compared to pre-pandemic. The winner's column includes operators across various formats including High-Value Low-Plan operator Planet Fitness, Experiential and Boutique operator Xponential Fitness, and Luxury operator Life Time Fitness. These three operators have experienced significant improvements in both revenue and membership growth, along with consistent expansion.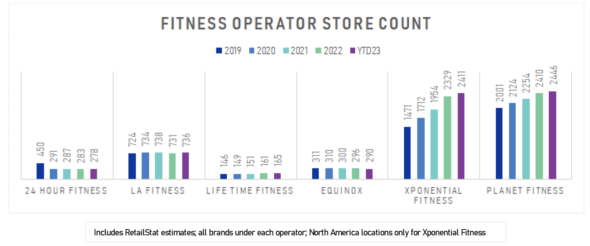 View Full Article: